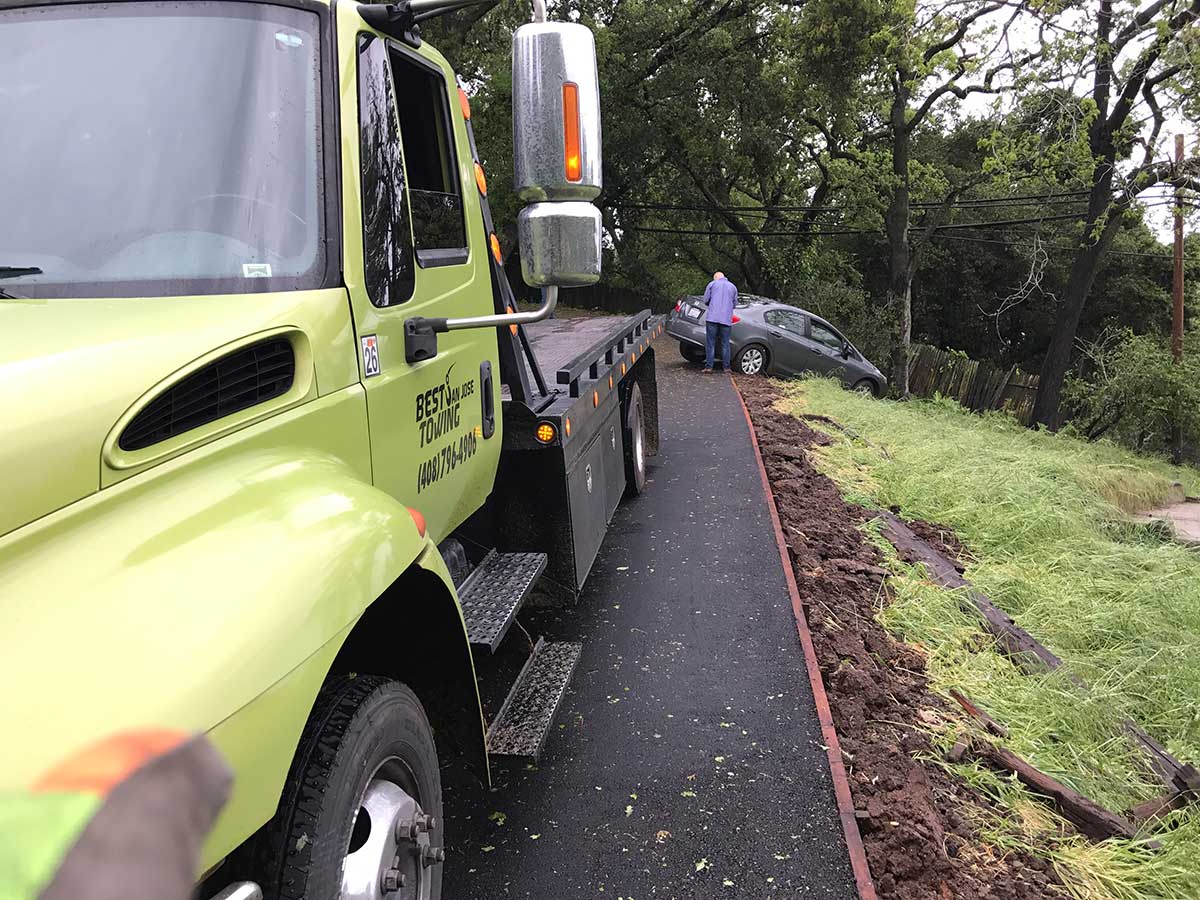 Best San Jose Towing service is a 24 hour towing and road emergency service working in and around San Jose, CA.
We are committed to help motorists all year round 24 hours a day so that you can travel in peace and secure in the knowledge that you will be taken care of, no matter what the time of day or night, all seasons of the year, irrespective of weather and time of the year.
Whether you have an electrical failure or need a tyre change, we are there to help you with our 24 hour tow truck service San Jose. We are a responsible 24 hour Towing company whose aim is to serve our customers to the best of our ability.
Whether you are in the city limits or outside standing alone on a dark highway, you can rely on us to be there 24 hours of the day 365 days a year. Our 24 hour tow trucks service San Jose will come to your assistance with trained technicians to investigate your problem and find you a solution.
Our best in class tow trucks are capable of handling all emergencies. When our 24 Hour toing support team reaches you, they are prepared to deal with the worst. So whether it is an accident or just an empty fuel tank, we are prepared to deal with all emergencies. Our team is committed to help motorists with understanding, compassion, politeness and courtesy. They are highly trained professionals who know their job. They can and will take care of your emergency and provide you with all assistance 24/7 365 days of a year.
Whether it is roadside assistance or towing service call us whenever you are stranded on the road and Best Towing San Jose Company team will respond to your call immediately.
Our Services include:
o Car won't start
o Providing diagnosis and repair assistance.
o Jump starting a vehicle
o Fuel Delivery
o Water delivery
o Change of tyre
o Electrical malfunction
o Replacement of Battery
o Recharging of battery
o Car lock out services
o Pulling out vehicles that are stuck
o Emergency roadside assistance
o Auto locksmith assistance
o Removing stranded vehicles
o Removing damaged vehicles
o Long distance towing
o Towing vehicles to garage for repairs
o Flatbed towing
o Hitch towing
o Lift towing
o Vehicle Recovery
o Heavy duty towing
If you are looking for round the clock towing services in and around San Jose, CA, Best San Jose Towing is your best bet. We provide 24 hour towing services to ensure that your car is fixed is no time. Whether you need a tire change or have had an accident, we guarantee you to handle any and all emergencies.
Call us now if you have a stalled car situation. We are a 24 hour towing service in San Jose